Amir Riad
Global Head of Corporate Finance and Investment Bank, Wholesale Banking Group
Abu Dhabi Islamic Bank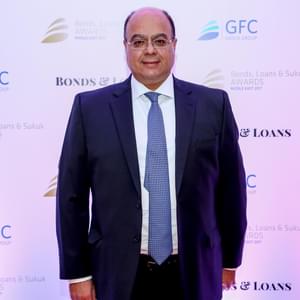 Biography
Mr. Amir Riad is the Global Head of Corporate Finance and Investment Bank ("CFIB") with ADIB since 2009. He has 20+ years of corporate finance and investment banking experience in KSA, UAE, UK, and Egypt. Under his leadership, ADIB corporate finance has arranged multibillion dollar worth of Sukuk, syndicated & structured finance deals on behalf of GREs, major corporates & FIs across the UAE & ADIB's geographic footprint including the following:
• End-to-end financing and advisory solutions split across Debt Capital Markets & Syndications, Asset Finance, Corporate Advisory, Equity Capital Markets and Mergers & Acquisitions, making it a "one-stop shop" for clients encompassing sharia compliant capital raising, advisory and distribution
• Successfully advised on and syndicated more than US$ 22 billion of syndicated facilities across varied sectors and different geographies with average c.2x oversubscriptions.
• Arranged / advised on c. US$ 16 billion of Sukuk spread across sovereigns, quasi sovereigns, corporates and FIs – ADIB achieved leadership in Sukuk space based on innovative and widely acceptable sharia structures
• ADIB CFIB ranked as the No.1 bookrunner in UAE Islamic Financing league tables in 2017 for the 6th consecutive year (Bloomberg) and is a top arranger in the UAE Islamic Sukuk bookrunners
• ECM / Advisory capabilities: CFIB brings best-in class structuring, valuation and execution to the UAE Equity Capital Markets, having led the first ever tradable rights issue for a bank in the UAE and advising on several Sell side M&A situations – ADIB stands out as one stop shop for this business with advisory and acquisition finance capability – ADIB advised on the sell side advisory of Emirates Ship Investment Company and the combined non-recourse acquisition finance (on behalf of the buyer) – Seatrade Deal of the year award 2016.
• Under Amir's Leadership, ADIB has been recognized with many awards including Project Finance Deal of the year ("FINCO US$ 3 billion project finance") by Bonds, Loans & Sukuk Awards, Local Currency Deal of the year (" Tabreed AED 1.5 billion club term facility"), Sukuk Manager of the year by ISF MENA 2016, Sukuk Deal of the year by a Debut issuer ("Ezdan Holding Group US$ 500M Sukuk") by Bonds, Loans & Sukuk Awards, Syndicated Loan by Debut Borrower Deal of the year ("ENOC US$1.5bn Syndicated Facility") by Bonds, Loans & Sukuk Awards
Prior to joining ADIB, Mr. Riad held the position of Managing Director, Regional Head of Corporate Advisory for the MENA region at Standard Chartered Bank UAE. He advised on a number of high profile cross-border buy and sell side M&A and corporate finance transactions on behalf of large local corporations, sovereign wealth funds and private equity firms.
Previously, Mr. Riad has spent over 12 years at Citigroup, where he held several leadership positions in corporate finance and private equity. As Head of Equity Capital Markets with Citigroup/ Samba, Riyadh, he advised on and managed a number of high profile advisories, IPOs and equity placements in the region. He was earlier with Citigroup including a posting with Citigroup venture Capital International investment team based in London where he was associated with a number of private equity and acquisition transactions in Central Europe, Middle East and Africa region.
Amir holds an MBA in Financial Management from the University of Exeter (Distinction), United Kingdom and a B.Sc. (Highest Honors) in Engineering from the American University in Cairo, Egypt.
---
Speaker at these events:
Bonds, Loans & Sukuk Middle East 2020
Analysing the supply and demand factors that will drive syndicated loan markets in 2020
Bonds, Loans & Sukuk Middle East 2019