Walid Amri
Senior Director - Origination, Investment Banking
Mashreq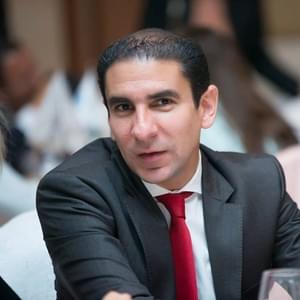 Biography
Over 16 years of banking experience of which 3 years in Corporate Banking, 5 years in Project and Structured Finance and 8 years in Corporate Finance (Corporate Loans, Acquisition Finance, LBOs, Contracting Finance, Loan Repos, Loans to FIs) with a target market of MENA, South East Asia and Africa (FI). Walid is actively involved across the corporate finance spectrum (loan origination, structuring, execution and distribution), both on conventional and Islamic structures. He has joined Mashreq in 2004 after 3 years with Citibank Tunisia where he was involved in relationship management and then remedial management. Walid holds a BSc from ESCT (Ecole Superieure de Commerce) and a Masters in Sociology applied to Corporates.
Mashreq has provided banking and financial services to millions of customers and businesses since 1967.
They are one of UAE's leading financial institutions with a growing retail presence in the region including Egypt, Qatar, Kuwait and Bahrain. They focus on providing customers access to a wide range of innovative products and services.
---
Speaker at these events:
Bonds, Loans & ESG Capital Markets CEE & CIS & Türkiye 2023
How are banks and FIs managing their balance sheets, given the increased costs of funding?
Bonds, Loans & ESG Capital Markets Africa 2023
The price is (not) right: How are corporates and FI borrowers and issuers managing their balance sheets given the increased cost of funding?
Bonds, Loans & Sukuk Turkey 2022
Navigating loan market growth and LIBOR transition in a post-COVID world
Bonds, Loans & Sukuk Turkey 2021
Commercial banks, DFIs and ECAs: Who is driving Turkey's syndicated loan market?
Bonds, Loans & Derivatives Russia & CIS 2022
Building back better: What steps are Russian corporates taking to meet funding requirements and strengthen business plans post-COVID-19?
Bonds, Loans & Sukuk Middle East 2022
Understanding the challenges for MENA corporates when investing in Africa: How can African banks bridge the funding gap?
Bonds, Loans & Sukuk Africa 2020 - Virtual Conference
How have banks' approach to lending in the syndicated market changed in the COVID era?
Bonds, Loans & Sukuk Middle East 2020
Navigating through the markets: Pricing and making sense of GCC credit spreads
Bonds, Loans & Sukuk Middle East 2019