Sarah Pirzada Usmani
Managing Director, Head of Sustainable, Asset & Project Finance
First Abu Dhabi Bank (FAB)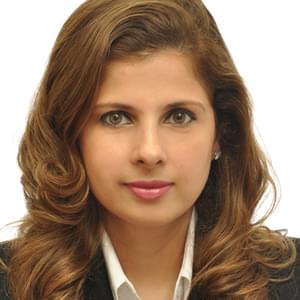 Biography
Sarah has over 18 years of corporate and investment banking experience having worked across a number of banking divisions such as Project & Export Finance, Asset Finance, Structured Finance, Structured Trade Finance & Financing Solutions and Client Relationships across Europe, Asia, Africa and the Middle East
She joined FAB in May 2016 from Standard Chartered Bank where she held a number of senior roles including but not limited to; Regional Head of Asset Finance & Leasing, Regional Head of Structured Export Finance, ASEAN Coordinator for Structured Trade Finance and Financing solutions etc.
Sarah is well versed with the European and Asian Export Credit Agencies (ECAs) having originated, lead and concluded several landmark, award winning Project & Export finance transactions and advisory assignments for regional and international clients across Asia, Africa & the Middle East. She also successfully established the Export Credit Agencies (ECAs) platform for FAB
Sarah also has significant experience in the corporate finance space including Asset Finance having successfully delivered bespoke financing solutions to clients across sectors such as mining, construction and aviation - both to Airlines and Lessors demonstrating ability to support the sector in multiple ways
Sarah holds a Master's degree in Business Administration from Institute of Business Administration Karachi (Pakistan)
---
Speaker at these events:
Bonds, Loans & Sukuk Middle East 2022
Examining the role of FIs, issuers and investors in pushing forward MENA's transition finance agenda
Bonds, Loans & Sukuk Middle East 2021
Sustainable ESG and greenwashing: How quickly and efficiently can companies transition to an ESG framework?
Project, ECA & Structured Finance MENA 2020 - Virtual Conference
Balancing ESG with structure and liquidity: Is there a liquidity and/or price advantage for green and sustainable debt?
Bonds, Loans & Sukuk Middle East 2020
How to define and implement an ESG policy: Where to start
Project, ECA & Structured Finance Middle East & Africa 2019
Financing MEA's solar and water projects: How can the structures used to successfully finance Abu Dhabi's pipeline be applied elsewhere in the region?
Bonds, Loans & Sukuk Middle East 2019