Patience Oniha
Director-General
Debt Management Office, Nigeria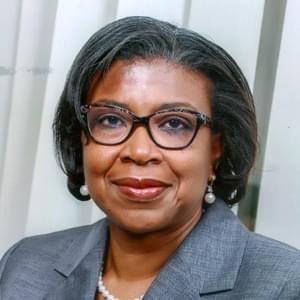 Biography
Ms. Oniha began her career at Icon Limited Merchant Bankers in 1986, where she rose to the position of a Manager, before joining First Securities Discount House Limited (now FSDH Merchant Bank Ltd.) in 1992. She rose to the position of General Manager/Director before joining Ecobank Nigeria Limited in 2000. From 2004 – 2008, Ms. Oniha was in Standard Chartered Bank Nigeria Ltd. as a General Manager.
After a fulfilling career in the banking sector spanning over 22 years, Ms. Oniha made a career move to the public sectors when she joined the DMO in 2008 as Director, Market Development Department. In this capacity, Ms. Oniha brought her banking experience to bear on various aspects of the DMO's activities. A major achievement of hers during her eight years at the DMO was the introduction of Benchmark Bonds to develop the domestic bond market in order to improve liquidity and to create a sovereign yield curve which created opportunities for State Governments, Multilaterals and Corporates to raise long term funds. The purpose behind this drive was to create a debt capital market where the public and private sectors can access long term funds to finance Nigeria's growth and development. For sustainable development of the debt capital market, she actively engaged with local and foreign investors, regulators and other stakeholders to develop a large and diversified investor base for FGN Securities and Bonds issued by other borrowers.
Ms Oniha managed the successful issuance of Nigeria's debut USD500 million Eurobond in January 2011. The debut Eurobond opened a new source of funding for the Federal Government and Corporates. In 2013, she also managed the issuance of the dual-tranche USD1 billion Eurobond which was subscribed to the tune of about 400%. A number of Nigerian banks also tapped into this funding window by issuing Eurobonds. She was also responsible for the inclusion of FGN Bonds in the J.P. Morgan Government Bond Index – Emerging Markets (GBI – EM) in October 2012 which made Nigeria the second country in Africa, after South Africa to have its local currency sovereign bond included in the Index. The inclusion of FGN bonds in this Index attracted foreign investors to the domestic bond market as a whole. This was followed by the inclusion of FGN Bonds in the Barclays Capital Emerging Markets – Local Currency Government Bond Index (EM – LCBI) in March 2013.
While still at the DMO, Ms. Oniha was appointed as the Head of the Efficiency Unit at the Federal Ministry of Finance. To execute the mandate of the Unit which was to moderate the Government's Overhead Expenditure and generate savings from the procurement process, Ms. Oniha introduced a number of initiatives. Amongst them were the issuance of 7 Circulars to control expenditure on specific Overhead items and the negotiation of discounts with airlines. These delivered savings estimated at N17 billion to the Government. She was working on the introduction of new processes for payment and procurements when she was appointed Director-General of DMO with effect from July 1, 2017.
Ms. Oniha obtained a B.Sc. Economics, First Class Honours from the University of Benin in 1983 and went on to earn an M.Sc. Finance from the University of Lagos in 1985. She is also a member of the Institute of Chartered Accountants of Nigeria in 1990 and a Fellow in 2008. She is also an Associate Member of the Chartered Institute of Taxation of Nigeria. Since her return to the DMO, Nigeria has issued its debut N100 billion Sovereign Sukuk and N10.69 billion Sovereign Green Bond. Nigeria also issued its first 30-Year tenored Eurobond in the International Capital Market which represents the first by a sub-Saharan country other than South Africa and has established the basis for long term infrastructure funding.
---
Speaker at these events:
Bonds, Loans & ESG Capital Markets Africa 2023
Raising capital in 2023: How are sovereigns, supras and agencies planning to tap the markets in the new environment?
Bonds, Loans & Sukuk Africa 2022
Balancing economic growth with fiscal responsibility: African sovereign debt outlook 2021/2022
Bonds, Loans & Sukuk Africa 2020 - Virtual Conference
Assessing sovereign debt outlook for 2021: Where are sovereigns looking for funding?
Bonds, Loans & Sukuk 24 2020
How are African governments securing financing for their COVID-19 response?
Bonds, Loans & Sukuk Nigeria 2019
Presentation: Nigeria's financing strategy 2019/2020
Bonds, Loans & Sukuk Africa 2020
Bonds, Loans & Sukuk Nigeria 2018
Bonds, Loans & Sukuk Africa 2019
Vision 2019: Africa's prospects, opportunities and challenges in 60 minutes