Olukayode Pitan
Managing Director / Chief Executive Officer
Bank of Industry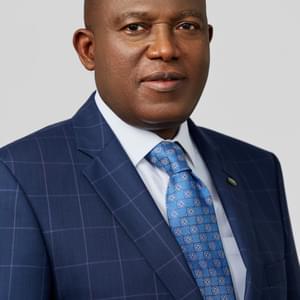 Biography
Mr Olukayode Pitan is the Managing Director and Chief Executive Officer of Bank of Industry Ltd, Nigeria's oldest and largest development finance institution. He draws from significant experience gained across various financial services sectors including banking and capital markets, during his over 30-year career.
Pitan is charting the course to achieve sustainable impact by providing affordable long-term financing and counter-cyclical loans diversified across various sectors of the Nigerian economy.
He has pioneered several innovative transactions in the Nigerian capital market and the international financial market towards Nigeria's economic development. To date, he has led the Bank of Industry to successfully raise about $5 billion from the international market through syndications and the bond market over the last four years.
Prior to his current role, he served as MD/CEO of First lnterstate Bank PLC; Executive Director at Unity Bank PLC; Executive Director at FSB lnternational Bank PLC; and the pioneer MD/CEO of ENSEC - a specialised banking unit of FSB lnternational Bank PLC that focused on the energy Sector in Nigeria.
Mr. Pitan is the Chairman of the Association of Nigerian Development Finance Institutions (ANDFI); and the director representing West Africa on the Board of the Association of African Development Finance Institutions.
Pitan is actively involved in youth empowerment, and sits on various boards, providing advisory and governance support.
---
Speaker at these events:
Bonds, Loans & ESG Capital Markets Africa 2023
The price is (not) right: How are corporates and FI borrowers and issuers managing their balance sheets given the increased cost of funding?
Bonds, Loans & ESG Capital Markets Africa 2023
The rise of social infrastructure: How has the continent's project pipeline evolved given the necessary "prioritisation" of healthcare and affordable housing?