Jean-Paul Ndjemba
Chairman and Group CEO
Matha Capital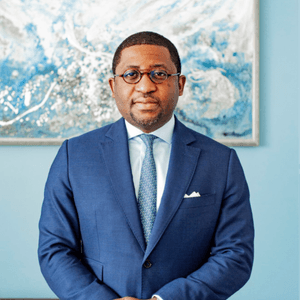 Biography
Jean Paul Ndjemba is the Founder and Managing Director of the Capital Group, which includes Matha Capital Ltd Côte d'Ivore, Matha Capital Rwanda and Matha Securities. Since forming Matha Capital in 2017, Jean Paul has been leading an advisory team which continues arranging and co-arranging some of the most significant and sizeable transaction for sovereigns and sub-sovereigns in Sub-Saharan Africa.
Jean Paul is a career corporate finance and investment banker who, until June 2017, was Executive Director and Country Head of Global Banking for Standard Chartered Bank Cote d'Ivoire, overseeing Corporate, Investment and Institutional Banking, Treasury and Transaction Banking. Jean Paul brings with him a wealth of diverse experience with 23 years in Banking across Asia and Africa.
Before starting Matha Capital, he was Executive Director and Country Head of Corporate and Institutional Clients at Standard Chartered Bank Mauritius Limited from 2011 to 2014. Prior to that Jean Paul was Head of Global Corporate for Standard Chartered Bank Vietnam Limited, in addition to his Governance role as Chief Executive Officer of Standard Chartered Bank Hanoi Branch.
Jean Paul was also the Chief Representative of Standard Chartered Bank in Vietnam's Asia Commercial Bank, an affiliate company of Standard Chartered Bank between 2007 and 2009
In Singapore, he held the roles of Group Product Manager in Transaction Banking, overseeing Clearing and Continuous Linked Settlement in 56 countries and Senior Manager in Asia Governance and Strategic initiatives while at Standard Chartered Bank Singapore.
Jean Paul graduated from The George Washington University, USA with degrees in Finance and Economics.
---
Speaker at these events:
Bonds, Loans & ESG Capital Markets Africa 2023
Raising capital in 2023: How are sovereigns, supras and agencies planning to tap the markets in the new environment?