Jaap Meier
Managing Director, Head of Research
Arqaam Capital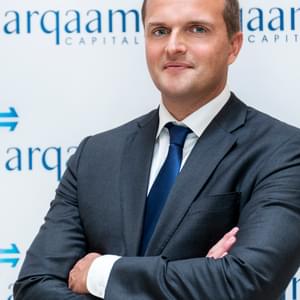 Biography
Jaap Meijer is the Head of Research at Arqaam Capital. He is also the Chief Strategist, Chief Economist and Head of FIG research. He is also a Member of Management Committee.

Jaap Meijer holds a Master of Science in Business Administration and Economics with an emphasis on Finance & Investments from Vrije Universiteit (Amsterdam), an MBA from Webster University (St. Louis) and is a holder of both the CFA charter and the CEFA designation (VBA). He is also a mentor in the CFA challenge.
He has 24 year of research experience. Prior to heading up the research at Arqaam Capital, covering MENA stocks, he was a research director at Evolution, Dresdner Kleinwort and Cheuvreux, covering European financial conglomerates, diversified financials as well as investment banks.
His highest rankings were a No 1 ranking in Emerging EMEA Financials in Extel, and a No 2 ranking in MENA Extel survey.
---
Speaker at these events:
Bonds, Loans & Sukuk Middle East 2021
Market liquidity and ALM: How are banks managing their funding and capital under Basel 3 requirements in a post-COVID world?
Bonds, Loans & Sukuk Middle East 2020 - Virtual Conference
How are GCC banks navigating through an environment of low rates, low oil price and low GDP (and loan) growth?
Bonds, Loans & Sukuk Saudi Arabia 2019
Bonds, Loans & Sukuk Middle East 2019