Emmanuel Nambware
Chief Executive Officer, Rwanda
Matha Capital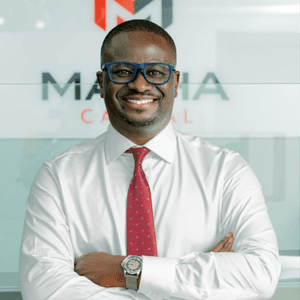 Biography
Emmanuel Nambware is a banking and finance professional with 24 years' experience mostly in Financial Markets, with special focus on Rates and Credit trading and ALM. He has recently been appointed the Managing Director of Matha Capital Rwanda, after having been Executive Director Capital Markets since 2018, then based in CDI.
He has been Executive Director- Head of Rates and Credit Trading Emerging Markets for Standard Chartered Bank Ghana, with coverage of West Africa (excluding Nigeria) and selected Central African markets. Before joining the pioneering team at Matha Capital Ltd. Capital in 2018, Emmanuel had been in charge of the Standard Chartered Cote d'Ivoire Financial Markets division, while also looking after the rates credit trading for the region.
Emmanuel spent most of his career years deploying Fixed Income and rates traded products in Ghana and the sub region. He was instrumental in setting up the Ghana Fixed Income trading for the Standard Chartered and the market at large. Having been a member of key market committees at the Ghana Stock Exchange's Ghana Fixed Income Market, and a Vice President of the Financial Markets Association (ACI Ghana), Emmanuel has been involved in the development and deployment of trading instruments, government borrowing strategies and risk management solutions.
Emmanuel joined Standard Chartered, from Stanbic Bank in Zimbabwe, as Head of Asset and Liability Management and Fixed Income Trading and has covered such markets as Nigeria Zambia, UAE and India in similar trading capacity.
Emmanuel started his banking career at Stanbic Bank Zimbabwe where he rose through the ranks and left as Chief Dealer -Money Market
He holds a Postgraduate in International Banking and Finance from the University of Salford Business School - Manchester UK and diplomas in Treasury Management and Trade Finance.
---
Speaker at these events:
Bonds, Loans & ESG Capital Markets Africa 2023
Macroeconomic outlook for the African continent: How is rising inflation, interest rates and a stronger dollar going to impact growth and investment?