David Gonzalez
Managing Director & Head of Project & Structured Finance, Latin America
SMBC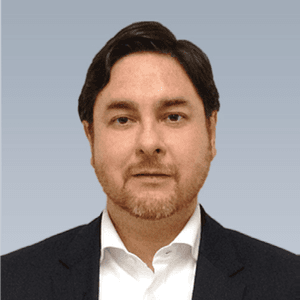 Biography
David González joined SMBC New York in 2013 to head the infrastructure Latin America practice, covering transportation infrastructure (roads, ports, airports, rail, subways, etc), social infrastructure (schools, hospitals, detention centers, government buildings, etc), and water infrastructure (water treatment, irrigation, desalination, aqueducts, etc), and telecom (fiber optic, cell towers, data centers, etc).
Prior to joining SMBC, David worked as Executive Director for WestLB' Infrastructure Americas Group in New York and as Vice President for BBVA's Americas Project Finance Team in New York. Prior to that, David worked at Dexia New York's Latin America Department and Standard & Poor's Project Finance Latin America Team.
David has a long working experience in the Americas, where he has advised, structured and/or financed transactions worth over $50 billion (aggregate) in countries such as USA, Canada, Mexico, Brazil, Peru, Colombia, Chile, Panama, Uruguay, Argentina, Bermuda, and Aruba, among other counties.
David holds an MPA from Columbia University's School of International and Public Affairs in New York and a BA from the University of Nuevo Leon in Mexico.
---
Speaker at these events:
Bonds & Loans Latin America 2020 - Virtual Conference
Dollar funding for local projects: How to re-attract international investors to Colombia's 5G infrastructure programme
Bonds, Loans & Derivatives Andes 2020
Assessing lenders' and investors' appetite for the 2020 infrastructure project pipeline
Project Finance & Capital Markets Latin America 2020
Chairman's opening remarks
Chairman's closing remarks followed by networking cocktail reception