David Gonzalez
Managing Director & Head of Project & Structured Finance, Latin America and the Caribbean
SMBC Americas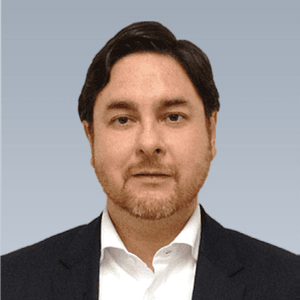 Biography
David heads the Project Finance Latin America practice overseeing all three Project Finance sectors: Infrastructure and Telecom, Power and Renewable, and Natural Resources.
Prior to joining SMBC, David was an Executive Director for WestLB' Infrastructure Americas Group (North America and Latin America), Vice President for BBVA's North America Project Finance Team, and Vice President for Dexia's Latin America Team. He also worked for Standard & Poor's where he was responsible for providing ratings for project finance deals in the infrastructure, power, and oil and gas space.
David has more than 20 years of project finance experience in the Americas where he has worked in transactions in the USA, Canada, Mexico, Brazil, Peru, Colombia, Panama, Chile, Uruguay, Argentina, Ecuador, Trinidad & Tobago, and Aruba, among other counties.
David has been involved in the origination, advisory, execution, and syndication of projects with total investments of more than $50 billion. Some important projects include Lima Airport Expansion in Peru (FA), Autopista al Norte in Peru, Tranantiago e-buses in Chile, Ferrocarril Central in Uruguay, Spence Desalination in Chile, Mar 1 and Mar 2 4G Toll Roads in Colombia, La Bufa Wind Farm in Mexico, Trafigura River Transport in Colombia, El Dorado Airport in Colombia, Mexico City Airport in Mexico, Tisur Port in Peru, Lima Metro 2 in Peru, PR-22 Toll Road in Puerto Rico, Windsor Essex Parkway PPP Road in Canada, Ruby Gas Pipeline in the USA, Port of Miami Tunnel in USA, I-595 Express Lane Road in USA, A-30 PPP Road in Canada, La Yesca Hydro Power in Mexico, Black Gold Oil Drilling Platform in Brazil, Corredor Sur Toll Road in Panama, among others.
David is fluent in English and Spanish. He holds a B. A. in business administration from UANL in Mexico, and an MPA from Columbia University in New York.
---
Speaker at these events:
Bonds & Loans Latin America 2020 - Virtual Conference
Dollar funding for local projects: How to re-attract international investors to Colombia's 5G infrastructure programme
Bonds, Loans & Derivatives Andes 2020
Assessing lenders' and investors' appetite for the 2020 infrastructure project pipeline
Project Finance & Capital Markets Latin America 2020
Chairman's opening remarks
Chairman's closing remarks followed by networking cocktail reception