Alfredo Santillan
MD & JGM, Chief Representative – Mexico
SMBC EMEA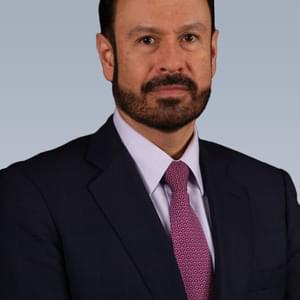 Biography
Alfredo joined SMBC - Mexico City Representative Office in 2009 and was instrumental in the start-up of SMBC's operations in Mexico. He is also Chief Representative of the Leon Representative Office opened in 2017.
Alfredo is also President of the Board of Directors of SMBC, S.A.P.I. de C.V., SOFOM, E.N.R. a non-bank financial subsidiary of SMBC established in 2015 to develop local currency funding/credit capabilities.
Alfredo is responsible for the operations of SMBC in Mexico - that includes the reporting and liaising with local authorities and the origination and execution of new business and relationship management of top key clients. Alfredo has over 30 years of experience in corporate/investment banking and structured & project finance, closing over US$ 50 billion dollars in aggregate deal volume.
Alfredo was recently appointed as Executive Coordinator for the Representative Offices Chapter at the Mexican Banking Association. The Executive Coordinator role was voted among all the registered Representative Offices at the Mexican Banking Association (approximately 30 offices).
Prior to joining SMBC, Alfredo was Senior Vice President at Standard Bank, Plc – Mexico Representative Office for almost 2 years, where he was project leader and coordinator in the origination and execution of structured and specialized finance deals, cross-border capital market transactions and subordinated/mezzanine debt deals.
Prior to Standard Bank, Alfredo worked at Scotiabank for 16 years. From 1991 to 2001, he was responsible for the origination, structuring and execution of investment banking transactions, such as: (i) domestic and international IPO's, (ii) M&A, (iii) private equity transactions, (iv) debt capital markets and (vi) securitizations. In 2002, Alfredo was appointed Managing Director & Industry Head at Scotia Capital, covering the second largest portfolio in Mexico. Alfredo was also responsible for the establishment of Scotia Capital's Infrastructure and Project Finance business in Mexico.
Alfredo holds a B.S. in Industrial and Systems Engineering from Instituto Tecnológico y de Estudios Superiores de Monterrey (ITESM), an MBA from Instituto Tecnológico Autónomo de Mexico (ITAM) and an Executive Management Program D-1 "A" from Instituto Panamericano de Alta Dirección de Empresa (IPADE).
---
Speaker at these events:
Bonds & Loans Mexico 2022 Virtual
What is the outlook for project finance given the limited pipeline of projects and political uncertainty?