Alessia Falsarone
Managing Director, Head of Sustainable Investing
Pinebridge Investments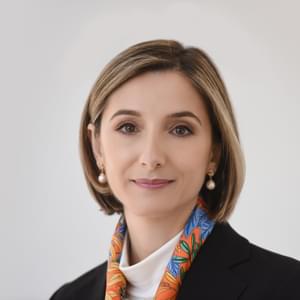 Biography
Alessia Falsarone is a Managing Director in the Global Fixed Income team at PineBridge Investments in New York, a private, global asset manager focused on active, high-conviction investing. As Head of Sustainable Investing, she brings an integrated portfolio management lens to the investigation of the Environmental, Social and Governance practices of global organizations that access developed credit markets. Previously, Ms. Falsarone served as Vice President of Global Investments in the office of the CIO at Citigroup, responsible for portfolio allocation of strategic co-investments as well as international client advisory. Ms. Falsarone was also a quantitative strategist on Citigroup's institutional desk in San Francisco. She started her career as an investment banker with Credit Suisse. Ms. Falsarone is a Governance Fellow of the National Association of Corporate Directors, a Standards Advisory Group member of the Sustainability Accounting Standards Board (SASB), and a member of the UN PRI Advisory Committee on Credit Risk. Ms. Falsarone is an alumna of Stanford University, the MIT Sloan School of Business and the Bocconi University School of Economics.
---
Speaker at these events:
Bonds & Loans Andes 2022 - Virtual Conference
Leveraging ESG and sustainability linked products to diversify and lower the cost of funding
Bonds & Loans Latin America 2020 - Virtual Conference
Transitioning finance: Why issuers will increasingly incorporate ESG and SDG themed bonds and loans to drive down cost of funding
ESG & Capital Markets Africa 2020 - Virtual Conference
The cost of "G": What is the real cost to companies when implementing increased governance to align with SDGs?
Bonds, Loans & Sukuk 24 2020
How to price deals in the current market where there are no reference points?
Project Finance & Capital Markets Latin America 2020
ESG, green finance and renewables: How can developers looking to secure sponsorship from international lenders and investors get ahead of the curve?