Aaron E. Franklin
Executive Director, Head of Sustainable Finance,
SMBC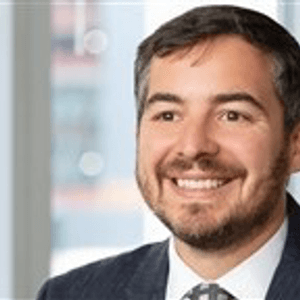 Biography
Aaron Franklin works with companies to integrate their Environmental Social Governance (ESG) performance and strategy into their financings, including structuring and executing green bonds, sustainability-linked loans and related instruments.
Aaron Franklin has more than five years experience in sustainable finance, previously serving as the Global Coordinator for Sustainable Capital Markets for a major international law firm and subject matter expert for all sustainable financings, and more than 10 years experience in international finance.
Aaron has executed many sustainable finance transactions, including green bonds and loans for clients ranging from some of the largest corporate issuers to diversified high-yield companies as well as the first-ever bond with an interest rate adjustment linked to achieving a sustainability performance target. Aaron publishes frequently on topics related to sustainable finance and has served on the Advisory Council to the Green Bond Principles Executive Committee.
Aaron's key expertise is in structuring and drafting sustainable finance frameworks; identifying material KPI and setting ambitious sustainability performance targets in sustainability-linked loans, and analysing of industry trends and developments.
Aaron has a B.S. from Cornell University focusing on international development and his J.D. from Georgetown University Law Centre.
---
Speaker at these events:
Bonds & Loans Mexico 2021 - Virtual
Transitioning finance: How are banks, investors and rating agencies supporting Mexican issuers on their journey to sustainability?
Bonds & Loans Latin America 2020 - Virtual Conference
Transitioning finance: Why issuers will increasingly incorporate ESG and SDG themed bonds and loans to drive down cost of funding