Aaron E. Franklin
Executive Director, Head of Sustainable Finance,
SMBC EMEA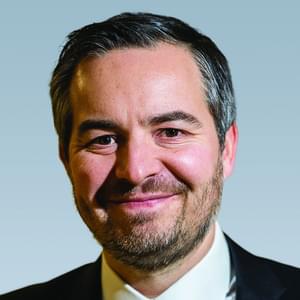 Biography
Aaron Franklin oversees SMBC's efforts in the Americas to support clients with integrating their environmental, social, and governance (ESG) performance and strategy into their financings, including structuring and executing green bonds, sustainability-linked loans, and related instruments.
Aaron has more than eight years of experience in sustainable finance, previously serving as the Global Coordinator for Sustainable Capital Markets for a major international law firm, and more than 10 years in international finance.
In his role with SMBC, Aaron has structured and executed sustainable finance transactions ranging from green bonds and sustainability-linked loans to innovative hybrid credit agreements. Aaron has worked extensively throughout Latin America, leading the sustainability structuring in transactions in Brazil, Chile, and Colombia, among other jurisdictions.
Aaron covers clients across the Americas and encompassing all sectors, including energy companies, diversified corporates and financial institutions.
In his prior role, Aaron was legal counsel to the underwriters in the first-ever sustainability-linked bond and served on the Advisory Council to the Green Bond Principles Executive Committee.
Aaron has a Bachelor of Science degree from Cornell University, where he focused on international development, and a Juris Doctor from Georgetown University Law Center.
---
Speaker at these events:
Bonds & Loans Brazil Virtual 2022
Transitioning towards sustainable financing and navigating "greenwashing" risks
Bonds & Loans Latin America 2020 - Virtual Conference
Transitioning finance: Why issuers will increasingly incorporate ESG and SDG themed bonds and loans to drive down cost of funding