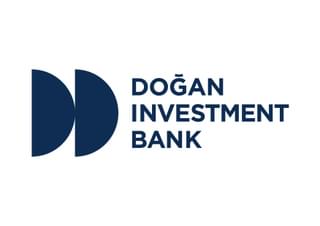 Company website: https://dybank.com.tr/en
Profile
Doğan Investment Bank commenced its operations in August 2021 following the receipt of the operating license from BRSA in May 2021. Doğan Investment Bank is fully owned by Doğan Holding, distinguished among Turkey's leading conglomerates enjoying a business history of over 60 years with activities in electricity generation, industrials, financial services, automotive, internet, entertainment and real estate, employing over 8,000 people.
Doğan Investment Bank is committed to contribute to the development of Turkey's economy and well-positioned to become a leading investment bank in Turkey and evolve into a prominent regional player with a wide coverage including Middle East, North Africa, CIS countries and Central and Eastern Europe on the back of its prominent shareholder, highly accomplished and experienced executive management, remarkable product know-how, deal expertise and strong access to local and international business community.
Doğan Investment Bank acts as a long-term strategic partner of its clients as the provider of value-added and customized financial services also with a focus on sustainability. In line with its vision, mission and strategy, Doğan Investment Bank's holistic solutions are grounded on four key pillars including Corporate and Commercial Banking, Investment Banking and Structured Finance, Treasury & Capital Markets and Transactional Banking & Digital Solutions.

---
Event Sponsorships
Bonds, Loans & ESG Capital Markets CEE, CIS & Türkiye 2023 - Bronze Sponsor
---
Contributors
Speaker at these events:
Bonds, Loans & Sukuk Turkey 2021
How to access new pools of liquidity and diversify funding by issuing sukuk
---